Fish Feed
Nutrition nut Ken Hoover contends that bass fishing is more grueling than even pro anglers know
By Sam Eifling
ESPNOutdoors.com
Anyone who has attended more than a couple of Bassmaster Elite Series events in 2007 is likely to have seen Ken Hoover, and just as likely not even to have noticed him.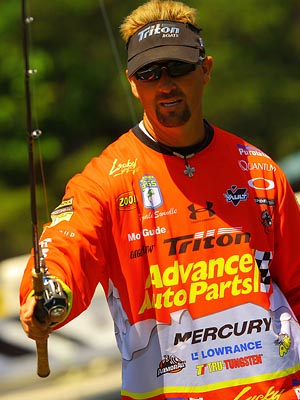 BASS Communications
Gerald Swindle got on Ken Hoover's program after losing 14 pounds during the 2006 season.
A trim, bespectacled man of 57, with salt-and-pepper hair tucked beneath a cap, Hoover is the gentleman holding plastic sacks laden with lunches, waiting calmly at the launch dock, waiting to feed the pros.
He's there, handing out meals to Aaron Martens, John Crews, Shaw Grigsby, Peter Thliveros, Jason Quinn and Gerald Swindle, among others, because he's convinced that few people — anglers included — recognize the physical demands of professional bass fishing.
He arrived at that conclusion after outfitting anglers with heart monitors this season to observe their calorie consumption. And even to him, the data have been "scratch-your-head numbers."
For instance, Thliveros burned 4,800 calories on Day Two of the Empire Chase. Martens burned through more than 5,800 during a day on Lake Guntersville, "throwing a spinnerbait all day," Hoover said.
They're the sort of figures that give lie to the old notion of pro fishing as a sport full of guys "patiently waiting for the camera to turn away from them so they can chug another Pabst from the Styrofoam cooler hidden under their tackle box," as a San Francisco Examiner columnist recently dismissed it.
Rather, the calories burned at the heart rate anglers maintain during the day is closer to jogging five miles in an hour, then lifting weights for an hour — then repeating that process four more times.
"He knows what an average professional angler takes to keep going," angler Shaw Grigsby said of Hoover. "That was the start. It's not just a sedentary activity."
Hoover, who has made a career of consulting for health clubs and various fitness-minded celebrities and athletes, hopes to convince BASS of the need to treat its competitors more like athletes. His dream, he says by phone from Fort Worth, Texas, is to garner sponsorships that would allow him to develop a "fitness trailer" like those that follow the PGA tour.
If golfers need an athletic support system, Hoover figures, bass fisherman do as well. While part of his mission has been to show how much abuse anglers inflict on their bodies, he has also been convincing anglers to repair that damage, by snacking.
"They will take the time to eat," Hoover said, "if you can put it in a form that they can deal with, which means brief and doable and tasty."
For the Elite Series pros to replace the calories they burn, Hoover has been pushing sandwiches (usually beef, chicken or peanut butter and jelly), apples, pineapple, rice cakes, protein bars and shakes. Sounds simple enough, but it has at times been a hard sell to anglers accustomed to fishing and driving their boats every available second during a tournament.
Hoover recalled the first time he approached Thliveros with a bag of food. "He just held it up and he said, 'You want me to eat that?'" Hoover confirmed that that was the plan. "And he said, 'Today?'"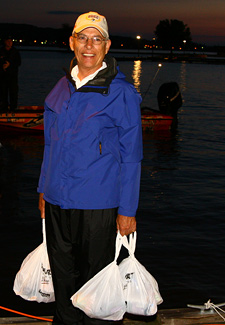 James Overstreet
Ken Hoover hopes to catch BASS up with the PGA's nutrition program and "fitness trailor."
Like many of the pros, Thliveros arranged his days around wasting no motion, and that included eating. His normal routine was to grab a quick breakfast, eat a light snack on the water, weigh in his fish at the end of the afternoon, then wolf a humongous dinner right before bed. "That," Thliveros said, "is just terrible for you."
The pro found that he was losing strength during the course of tournaments. Essentially he was making himself "fatter and weaker," Hoover said. Crews found that he lost 15 pounds during the 2006 season, and Swindle, 14 pounds. On those guys — both of whom are dedicated gym rats — that represents a loss almost wholly of muscle and sinew.
"No grown man wants to give up pounds of lean tissue," Hoover said. "We work too hard to get an ounce of muscle to give it back for lack of attention."
Hoover didn't attend the Bassmaster Memorial in Syracuse, N.Y., in July, but by then, Thliveros was feeding himself better in the boat, and his monitor demonstrated why that was a good thing. During the four days he fished, Thliveros burned 18,300 calories, Hoover said — the highest number that he's seen in monitoring anglers this season. Granted, that exertion was across about 10 hours each day, but Thliveros' average daily caloric consumption was still akin to what a runner burns during a marathon.
On the last day, Thliveros said, he didn't ingest anything more than some sports drink. But he credited an improved diet of protein shakes, fruit and granola bars with helping his stamina and concentration through the tournament — which he won, incidentally, earning a $250,000 check for his troubles.
"If you're hungry, and your body's telling you it's hungry, until you're able to overcome that feeling, then it's distracting you from what you should be doing," Thliveros said.
At the Sooner Run on Grand Lake, Grigsby accepted a lunch from Hoover, and said it kept him as alert as his normal regimen of energy drinks and multivitamins.
"It was fabulous," Grigsby said. "I couldn't believe it. I never had a letdown all day. It proved to me right off the bat that absolutely your diet can elevate you and keep you at the level you need to be to compete."
Amateurs who hunt and fish will find that their caloric demands are far lower than those of men competing for their livelihoods. Still, you should remember to mind the belly. "Everything I've ever put in the bags for those guys was bought the night before at Wal-Mart," Hoover said. "I'm not doing exotic things."
With that in mind, here are some points to remember:
•  "The best thing for people to take with them," Hoover said, "is what they're going to eat, as silly as that sounds." In other words, it's a waste to take food you'll have to force upon yourself. Pack something you enjoy.
•  That said, it should be healthy: lean proteins, fruits, carbohydrates. "History is, 'Let's put some Vienna sausages and some white bread in the boat and let's go,'" Hoover said. "That's participating in kicking your own ass."
•  A minimum daily recommendation of water is three liters. Hoover recommends that you add to that twice the volume of any caffeinated beverage you drink, to compensate for caffeine's diuretic properties. That comes out to another half-gallon of water if you imbibe two cokes. "Caffeine's pretty much a devil in that area," he said. Alcohol consumption requires the same offset, just not to the same extent.